Chocolate Excellence! July 2009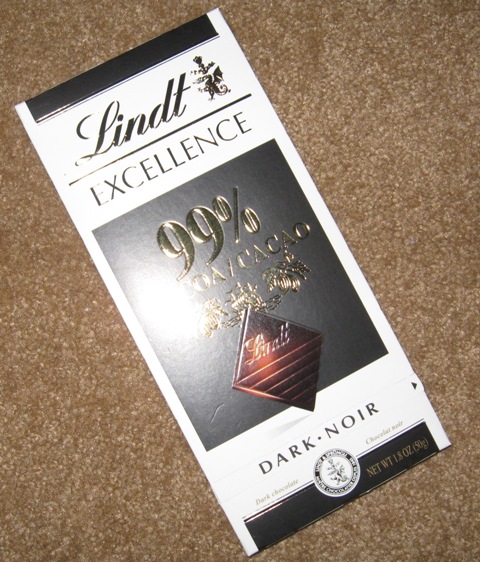 They DO make it! Lindt makes 99% cocoa bars! Just a day after I posted my last blog about Lindt's 90 percent chocolate, it was called to my attention that there exists a 99% version. My daughter-in-law stumbled across it at a Lindt store while visiting a mall and bought me some. It was surprising enough to us that there are whole stores devoted to Lindt, let alone that they sell such strong stuff! But they do! The "Excellence" bar! And it is pretty good! Once you get used to it, that is.
I wasn't able to try this delicacy until late last week, and I've given it a number of days to make sure I can give an accurate description of my taste-testing. The gold-foil wrapper inside even contains "important tasting advice":
"Excellence 99% is a unique chocolate that reveals all the strength and richness of cocoa beans," it says. "To fully appreciate all its flavours, we recommend that you progressively develop your palate through our range of high cocoa content chocolate bars, starting with Excellence 70%, then 85%, and finally 99%. The best way to experience EXCELLENCE 99% Cocoa is to break off a small piece and allow it to melt slowly in your mouth. To taste the full bouquet of cocoa aromas, try accompanying your tasting with some coffee."
Well, I'm not going to consume COFFEE with my chocolate; first, this chemical is against my religion, and second, I hate the taste of it and it is bad for you. But I have no problem eating chocolate plain. I must admit, though, that at first I thought the 99% stuff was kinda yukky. But the next day I ate a bit and it tasted a little better. And the next day I had it again and it tasted even better, and strangely, ten minutes later I wanted more!
And as far as progressively developing my palate by starting with 70% and so on—those numbers are for wimps. After eating cocao nibs—the raw, unsweetened chocolate—90% bars are like heaven. They taste so sweet! But if you don't like dark chocolate, especially the 90% variety, you'll despise 99% bars. Even my son and daughter-in-law think 99% is too strong and don't want any more. My younger son said it tastes "weird". Mr. Bin refuses to even try it. Oh well, more for me! Trouble is you can't buy these on regular shopping trips but only at Lindt stores, which is inconvenient for me. Or you can order it online, but you have to pay shipping. I'm still working out what to do as far as garnering at least a year's supply. Oh yes, here are the ingredients: chocolate, cocoa powder, cocoa butter, sugar. If you think 90% bars don't have enough sugar, you can imagine how little there is in the Excellence chocolate!
So the bottom line, in my opinion, is: Lindt 99% chocolate is good, but you have to give it some time for your palate to adjust. Also, this strong stuff is much healthier than regular chocolate because there is a lot less sugar, so it's worth it. And it melts in your mouth like a real chocolate bar, unlike those hard cacao nibs you have to chew and which get stuck in your teeth.
Soooo, try these 99% bars if you like. I dare you!
For more information about Lindt 99% bars, visit their website at www.Lindtusa.com
Posted by cindybinweight at 1:44 PM EDT
Updated: Thursday, 24 September 2009 1:51 PM EDT