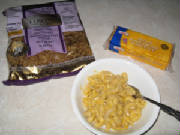 Macaroni and Cheese
Here's a yummy recipe for macaroni and cheese. This is definitely a "level 2" Somersize recipe, so don't eat this if you are still in the weight loss stage, unless your system can handle it. This is my own recipe, something I whipped up because I like it. This whole grain pasta, made from stone ground brown rice and rice bran, is much healthier for you than regular pasta. It cooks just like regular pasta and is really good! I buy it at the health food store, or you might try the health food section of your regular grocery store. Try to use organic cheese and butter if possible. I use full-fat cheese although you could use fat-free (although I'm not a big fan of it). I like this so much better than macaroni and cheese from a box, which I don't think is very healthy and also tastes too artificial to me.
Ingredients:
16 ounce package Tinkyada PastaJoy brown rice elbow pasta
8 ounce package cheese (cheddar or Colby is good)
Three or more pats of butter, a dab of whole milk
First, boil a big kettle of water, and throw in the whole bag of pasta, cooking according to package directions (about 17 minutes). Meanwhile, shred the package of cheese into a bowl and add the butter to it. Let this sit out to take the chill off so it melts easier. When the pasta is done, dump it in a strainer and shake off the water over the sink, then pour into a serving dish (or back into the empty pan you cooked it in) and add the cheese and butter and mix until melted. You can add a bit of milk if you want it creamier. I add pepper to mine—it makes it extra delicious.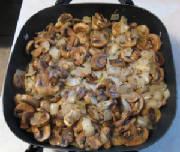 Lowcarb Onion Mushroom Dish
Here's a dish I have made at every Thanksgiving, which is a substitute for regular stuffing. It uses mainly mushrooms and onions, with lots of tarragon to give it that "Thanksgiving-y" flavor. There's really no set amount of mushrooms and onions to use, just as much of either as you'd like. You can look at the picture to get an idea.
Ingredients:
Package of sliced mushrooms
2 or 3 onions, chopped
Tarragon, garlic powder, oregano
Sauté onions in butter and/or olive oil for about five minutes, add mushrooms and spices and sauté with onions until tender.