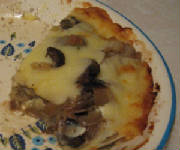 Mushroom and Onion Pie Recipe

Here is an easy lowcarb recipe similar to my zucchini pie, but you use mushrooms and onions instead of zucchini. Saute two large chopped sweet onions and a package (a pound or so) of sliced mushrooms in butter until tender. Pour into a greased pie plate. Mix two or three eggs in a bowl. Add a teaspoon or so of garlic pepper and dill weed to the egg mixture. Pour egg mixture over mushrooms and onions. Top with a package of cubed Monterey Jack cheese (at least a cup or more). Bake at 350 degrees until browned around the edges (about 20 minutes or so, but check). Sprinkle with Celtic natural sea salt before serving. It is so good! This is a great vegetarian dish, but you could add meat if you like, such as chopped ham, etc. Another option would be chopped, cooked broccoli. Enjoy!
ZUCCHINI PIE, OH MY!
"What's your website address again? I HAVE to get that recipe for zucchini pie! It was SO GOOD!"
Since two friends said almost that exact same thing to me recently after I had served this dish to them months ago, I decided to post the famous recipe for zucchini pie here, in addition to my original Blogger page (linked on my homepage) where it has been for years. That way, the recipe is now in two places and easier to find. Plus, I can post a PICTURE here! I have received more compliments on this dish, both from Internet people on controlled-carb programs as well as real-life friends who are not on any particular diet. It is easy to make, nutritious and delicious. It is also meatless, if you are a vegetarian. And it's a good way to use up zucchini if you grow it.
Actually, I got this recipe from an old exercise show from the early 1980s called "Shape Up with Nancy Larson", which ran every day on the local Christian channel. (I often wonder whatever happened to Nancy. I miss that show! I only have a few taped episodes but wish I had more. She was so inspirational.) Anyway, Nancy was very slender, and preached about how sugar is bad for you. She often gave recipes using full-fat cheese, eggs, butter, etc. So Nancy was Somersizing and didn't even know it! And this was back in the early 80's, before the "low-carb craze". She also noted that this recipe has no crust, "so it's not as fattening." She knew all along that it is the refined carb crust that could put on weight, not the cheese, butter and eggs.
Zucchini pie will keep for days, and you can just slice off a piece and heat it up whenever you want. I often eat it with broccoli. Sometimes I add onions to the pie. I usually serve it as a lunch or dinner dish, but it could also work for breakfast (although I usually eat a bowl of plain, whole-grain oatmeal then).
Zucchini Pie Ingredients:
Three medium zucchini (do not peel)
3 T butter
1/2 clove garlic (or you can use garlic salt or garlic pepper)
1/4 teaspoon dill weed
1/8 teaspoon pepper
2 eggs (beaten)
1 cup (or more) Monterey Jack cheese (cubed)
Slice zucchini into 1/4" pieces. Saute in butter 5 minutes. Pour into buttered 9" pie pan. Mix spices into the eggs, and pour over zucchini. Top with cheese. Bake at 325 degrees until cheese is slightly browned and bubbly (cooking times vary; check it after 25 minutes or so). Serve hot, and store any leftovers in refrigerator.
If you are a real health nut, use organic ingredients like I usually do. I also sprinkle Celtic sea salt on it before serving. I have found that it really is not necessary to pre-cook the zucchini; if you slice it thin enough you can get by without this step, thus saving time and dishes. I use lots of cheese. The more the better.
If you do make this dish, I hope you enjoy it. And thank you for tuning in to "Cooking with Cindybin".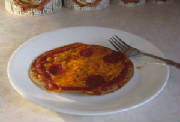 Lowcarb Pizza
Here is a good recipe for lowcarb pizza. Simply spread pizza or spaghetti sauce on a lowcarb tortilla, top with shredded cheese and other toppings of your choice, and bake at 350 degrees on a cookie sheet until lightly browned and crispy. I use "Smart & Delicious" lowcarb gourmet tortillas, garlic and herb flavor. Make sure your sauce does not have sugar in it. Classico roasted garlic spaghetti sauce is a good choice. If you're really fanatical, use organic cheese. The pizza in the photo above has pepperoni on it; I used uncured, nitrite-free pepperoni by Hormel. If you are a vegetarian, you can leave off the pepperoni or use meat substitute. Green peppers and other vegetables are a good topping as well.
I remember back before I started eating the lowcarb way, I'd go to Pizza Hut and order mine with green peppers and NO meat. I'd look in disgust at the "pools of fat" sitting on top of other people's sausage and pepperoni pizzas, and think how I sure wasn't going to eat that because I was trying to lose weight. I thought fat made you fat, because, well, why else would they call it "fat"? A lot of good it did me. Little did I know that I would have been better off eating the pools of fat. It was the carbohydrate crust that was doing me in! All that refined, white flour only added to my weight gain and out-of-control cravings.
There are recipes for lowcarb pizza which have an all-protein crust, but this pizza is definitely a Level 2 recipe if you are on Somersize, because it combines carbs and protein (on Level 1 you keep carbs and protein separate). But it is delicious when you crave pizza, and much healthier than the restaurant or frozen versions. And sorry, Pizza Hut, that I haven't visited you since 2001. I make my own pizza now!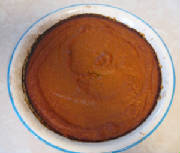 Healthier Low Carb Pumpkin Pie
This might not technically fit into level one Somersize or lowcarb, but it is healthier than regular pumpkin pie (or as I like to say, "punkin pie"). It uses honey rather than sugar, which is easier to metabolize, and it does not have a crust. Try to use organic eggs and raw honey.
Ingredients:
One 15-ounce can pumpkin
2 eggs
½ cup cream
¼ to 1/3 cup honey (I tried ½ cup and it was too sweet!)
Teaspoon pumpkin pie spice
Pinch salt
Combine all ingredients and pour into greased pie plate, bake at 350 for an hour or so.